Ice Shack T.v. -Of course it's got a flatscreen.
Check this one out: here's a photographer that's new to me: Carleton Watkins (1829-1916), a landscaper from the late 19th century who made lots of work in California and the Yosemite area on wet plates on his "mammoth camera".
A buddy of mine who went to school for this stuff was telling me about him yesterday so I looked him up and can't stop thinking on him, here's why: according to the legend and backed up by the Wikipedia here: http://en.wikipedia.org/wiki/Carleton_Watkins he was a successful and influential photographer who had a hand in having Yosemite established as a national park and had a successful studio in San Francisco but then suffered financially due to poor decisions and lavish sensibilities, but the kicker is: when San francisco suffered the massive earthquake of 1906, and subsequently the city burned, he lost everything and every last negative or plate he had left- and he went mad!- and was committed to the Napa state hospital for the insane where he died a decade later. A morbid and visceral reminder to back up your files reduntantly and keep one off site copy! Good lord man, what a horrible story! So there you go, with that little gem in mind: have a nice day! -Nate.
Carleton Watkins (title unknown)
Yosemite Falls ca. 1878-1881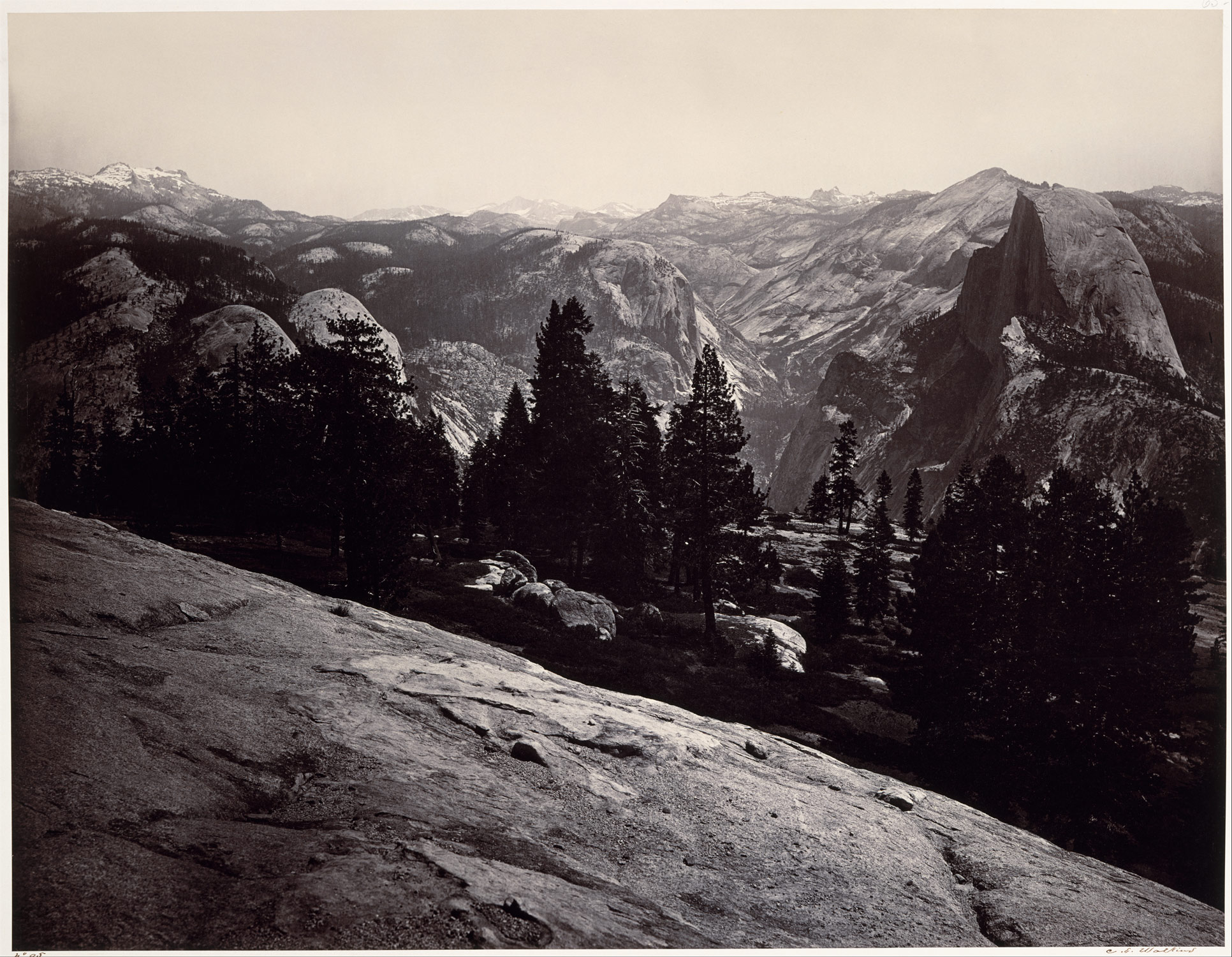 View from Sentinel Dome, Yosemite 1865-1866
title unknown
title unknown
"Coast View #1, 1863"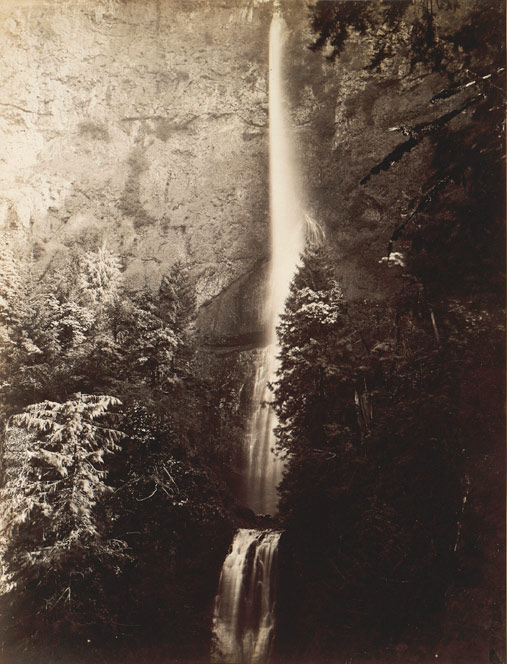 Multnoma Falls Cascade, Columbia River, 1867 Carleton Watkins. (from the Metropolitan Museum of Art NY website): In 1867, Watkins made a four-month trip to Oregon and the Columbia River. Josiah Whitney accompanied him for the first month and helped finance the excursion. Watkins had photographed the Nevada, Vernal, and Yosemite Falls before he went to Oregon; on those occasions, he either described the waterfalls as elements within broader landscapes (on the mammoth plates) or made close-up shots of the water roaring over the rocks (for stereo viewing). In this marvelously minimal photograph, he seems to have applied the simplicity of effect he usually reserved for stereographs to the monumental mammoth plate; boldly reducing the cascade to its essentials, white water cleaves dark rock in a single stroke, like liquid lightning.
stereoscope
Half Dome Yosemite Valley California, ca. 1867
title unknown
Yosemite Falls ca. 1865
Carleton Watkins with some of his kit
Watkins, 78 years old, and assistants fleeing the oncoming fire that accompanied the San Francisco earthquake of 1906. Most of his fragile glass plates and his studio were destroyed in the calamity and he died penniless in an insane asylum a few years later.
http://www.amazon.com/Carleton-Watkins-Complete-Mammoth-Photographs/dp/1606060058/ref=sr_1_1?s=books&ie=UTF8&qid=1362611580&sr=1-1&keywords=carlton+watkins