Here's today's p.o.t.d. that has absolutely nothing to do with anything, other then this is pretty much what it looks like around here these days, minus all the mud:
Tree, cracked road, clouds. Maine in the early spring.
Today is the anniversary of Diane Arbus's Birthday so we, us photographers, should all visualize giving a hearty high-five to the spirit of her.
Diane Arbus by Alan Arbus, 1949
From the wikipedia: Diane Arbus (March 14, 1923 – July 26, 1971) was an American photographer and writer noted for black-and-white square photographs of "deviant and marginal people (dwarfs, giants, transgender people, nudists, circus performers) or of people whose normality seems ugly or surreal.".[2] Arbus believed that a camera could be "a little bit cold, a little bit harsh" but its scrutiny revealed the truth; the difference between what people wanted others to see and what they really did see – the flaws. A friend said that Arbus said that she was "afraid . . . that she would be known simply as 'the photographer of freaks'"; however, that phrase has been used repeatedly to describe her. Although some of Arbus's photographs have sold for hundreds of thousands of dollars at auction, Arbus's work has provoked controversy; for example, Norman Mailer was quoted in 1971 as saying "Giving a camera to Diane Arbus is like putting a live grenade in the hands of a child." Others have, however, pointed out that Mailer was dissatisfied with a picture of him holding his crotch taken by Arbus that was taken for the New York Times Book Review
.Arbus was born as Diane Nemerov to David Nemerov and Gertrude Russek Nemerov. The Nemerovs were a Jewish couple who lived in New York City and owned Russek's, a famous Fifth Avenue department store. Because of her family's wealth, Arbus was insulated from the effects of the [Great Depression] while growing up in the 1930s. Arbus's father became a painter after retiring from Russek's; her younger sister would become a sculptor and designer; and her older brother, Howard Nemerov, would later become United States Poet Laureate, and the father of the Americanist art historian Alexander Nemerov. In 1941, at the age of eighteen, she married her childhood sweetheart Allan Arbus. Their first daughter Doon (who would later become a writer), was born in 1945 and their second daughter Amy (who would later become a photographer), was born in 1954. Diane and Allan Arbus separated in 1958, and they were divorced in 1969.
Photographic career
The Arbuses' interests in photography led them, in 1941, to visit the gallery of Alfred Stieglitz, and learn about the photographers Mathew Brady, Timothy O'Sullivan, Paul Strand, Bill Brandt, and Eugène Atget.[1]:129[16] In the early 1940s, Diane's father employed them to take photographs for the department store's advertisements.[5] Allan was a photographer for the U.S. Army Signal Corps in World War Two.[16]
In 1946, after the war, the Arbuses began a commercial photography business called "Diane & Allan Arbus," with Diane as art director and Allan as the photographer.[5] They contributed to Glamour, Seventeen, Vogue, Harper's Bazaar, and other magazines even though "they both hated the fashion world."[10][17] Despite over 200 pages of their fashion editorial in Glamour, and over 80 pages in Vogue, the Arbuses' fashion photography has been described as of "middling quality."[18] Edward Steichen's noted 1955 photographic exhibit, The Family of Man, did include a photograph by the Arbuses of a father and son reading a newspaper.[6]
In 1956, Diane Arbus quit the commercial photography business.[5] Although earlier she had studied photography with Berenice Abbott, her studies with Lisette Model, beginning in 1956, led to Arbus's most well-known methods and style.[5] She began photographing on assignment for magazines such as Esquire, Harper's Bazaar, and The Sunday Times Magazine in 1959.[6] Around 1962, Arbus switched from a 35 mm Nikon camera which produced grainy rectangular images to a twin-lens reflex Rolleiflex camera which produced more detailed square images.[6][19][20]
In 1963, Arbus was awarded a Guggenheim Fellowship for a project on "American rites, manners, and customs"; the fellowship was renewed in 1966.[8][21] In 1964, Arbus began using a twin-lens reflex Mamiya camera with flash in addition to the Rolleiflex.[19] Her methods included establishing a strong personal relationship with her subjects and re-photographing some of them over many years.[6][10]
During the 1960s, she taught photography at the Parsons School of Design and the Cooper Union in New York City, and the Rhode Island School of Design in Providence, Rhode Island.[14][22] The first major exhibition of her photographs occurred at the Museum of Modern Art in a 1967 show called "New Documents," curated by John Szarkowski. The show also featured the work of Garry Winogrand and Lee Friedlander.[11] Some of her artistic work was done on assignment.[11] Although she continued to photograph on assignment (e.g., in 1968 she shot documentary photographs of poor sharecroppers in rural South Carolina for Esquire magazine), in general her magazine assignments decreased as her fame as an artist increased.[6][23] Szarkowski hired Arbus in 1970 to research an exhibition on photojournalism called "From the Picture Press"; it included many photographs by Weegee whose work Arbus admired.[14][16][24]
Using softer light than in her previous photography, she took a series of photographs in her later years of people with intellectual disability showing a range of emotions.[11][25] At first, Arbus considered these photographs to be "lyric and tender and pretty," but by June, 1971, she told Lisette Model that she hated them.[19]
Associating with other contemporary photographers such as Robert Frank and Saul Leiter, Arbus helped form what Jane Livingston has termed The New York School of photographers during the 1940s and 1950s. Among other photographers and artists she befriended during her career, she was close to photographer Richard Avedon; he was approximately the same age, his family had also run a Fifth Avenue department store, and many of his photographs were also characterized as detailed frontal poses.[10][19][26] Another good friend was Marvin Israel, an artist, graphic designer, and art director whom Arbus met in 1959.[1]:144[26]
Death
Arbus experienced "depressive episodes" during her life similar to those experienced by her mother, and the episodes may have been made worse by symptoms of hepatitis.[6] Arbus wrote in 1968, "I go up and down a lot," and her ex-husband noted that she had "violent changes of mood."[5] On July 26, 1971, while living at Westbeth Artists Community in New York City, Arbus took her own life by ingesting barbiturates and slashing her wrists with a razor.[5] Marvin Israel found her body in the bathtub two days later; she was 48 years old.[5][6]
http://en.wikipedia.org/wiki/Diane_Arbus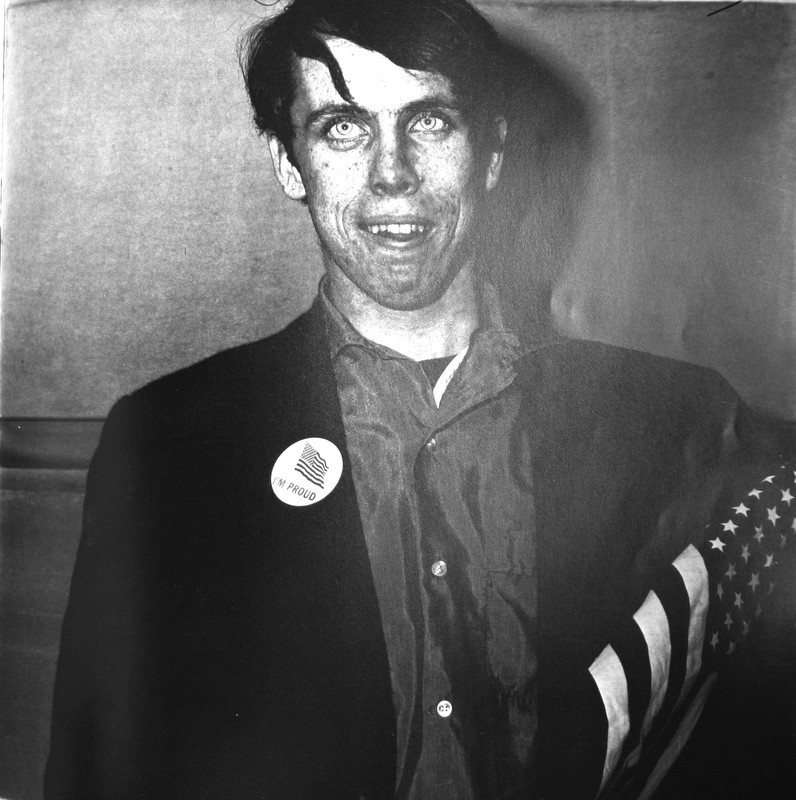 Here's to you Diane-